Pursuing a Graduate Programme at Centrica Energy, you've got a unique opportunity to impact one of the most exciting and rapidly evolving industries in the world – renewable energy.
Power Your Potential
Centrica Energy offers an opportunity to kickstart an international career in an international environment with over 36 nationalities represented across 8 locations. You'll take on real responsibilities and unlock exciting new opportunities, developing a strong network and a 360° holistic view of the business that lays the foundation for a successful career in the energy industry.

Embarking on a two-year journey specifically tailored to your background and interests, you'll work with and learn from the brightest minds in finance and commodity markets, developing the skills and experience needed to stand amongst the leaders and specialists of tomorrow.
We are Energy Movers by Nature
Could you be the perfect match?
You're welcome to apply no matter your background, but we're typically looking for newly graduated candidates who have concluded their studies within the fields of:

– Economics and Business
– Finance
– Mathematic and Natural Sciences
– Engineering
– Computer Science

Experience from the energy sector is not a requirement, we're looking for candidates who are obsessed with crushing the data, making predictions, and staying up to date on everything energy and technology related. Curiosity, an analytical mindset, and strong communication skills will take you far.
Meet our Graduates
Meet our current and former graduates who are ready to share their learnings, experience and best advice.
The rotational scheme created by Centrica Energy allows for a cross functional growth pattern, across different departments and roles of the company, allowing you to create the profile that fits your personality and interest.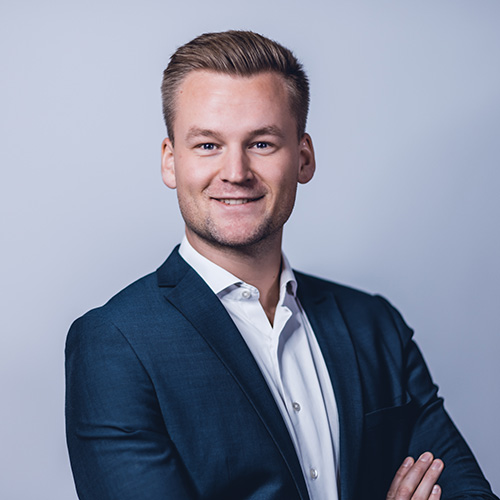 Hans Harbo
Business Manager - Graduate
Your career after the Graduate Programme?
David Frøkjær started his career at Centrica Energy as a graduate in 2015, and now he takes on the position as Portfolio Manager.

During his graduateship and full-time employment he has been in various departments - from Gas & Origination, Risk Management and Project Management - before he made an internal shift and took on this position as Portfolio Manager in the PPA business.
Offices
United Kingdom
Denmark
Belgium
Germany
Sweden
Norway
Singapore

Total Headcount
incl. Students